We are a well established family business with a very unique twist. Our entire reason for creating this store - jam packed with an ever growing and changing collection of treasures is to fundraise on a continual basis for The Craftekittens Cabin (The Craft-E-Kittens) and provide a fantastic level of service to our hugely supportive customer base.
Meet the cats: Chewie & Eggy [C/R]
As of April 6th 2019 we unfortunately now only have two furbabies remaining in The Craft-E-Kittens / Cat Cabin.. We very suddenly had to say goodbye to Beany 1st March 2019, followed by Pumpkin 6th April 2019. As you can imagine we are absolutely devastated and are trying to juggle what feels like a million small things right now. See our news posts for more info. Pictured to the right are Chewie (14.1yrs) and Eggy (7.8yrs).
Beany is in this picture as I literally don't have the strength to crop it! Xx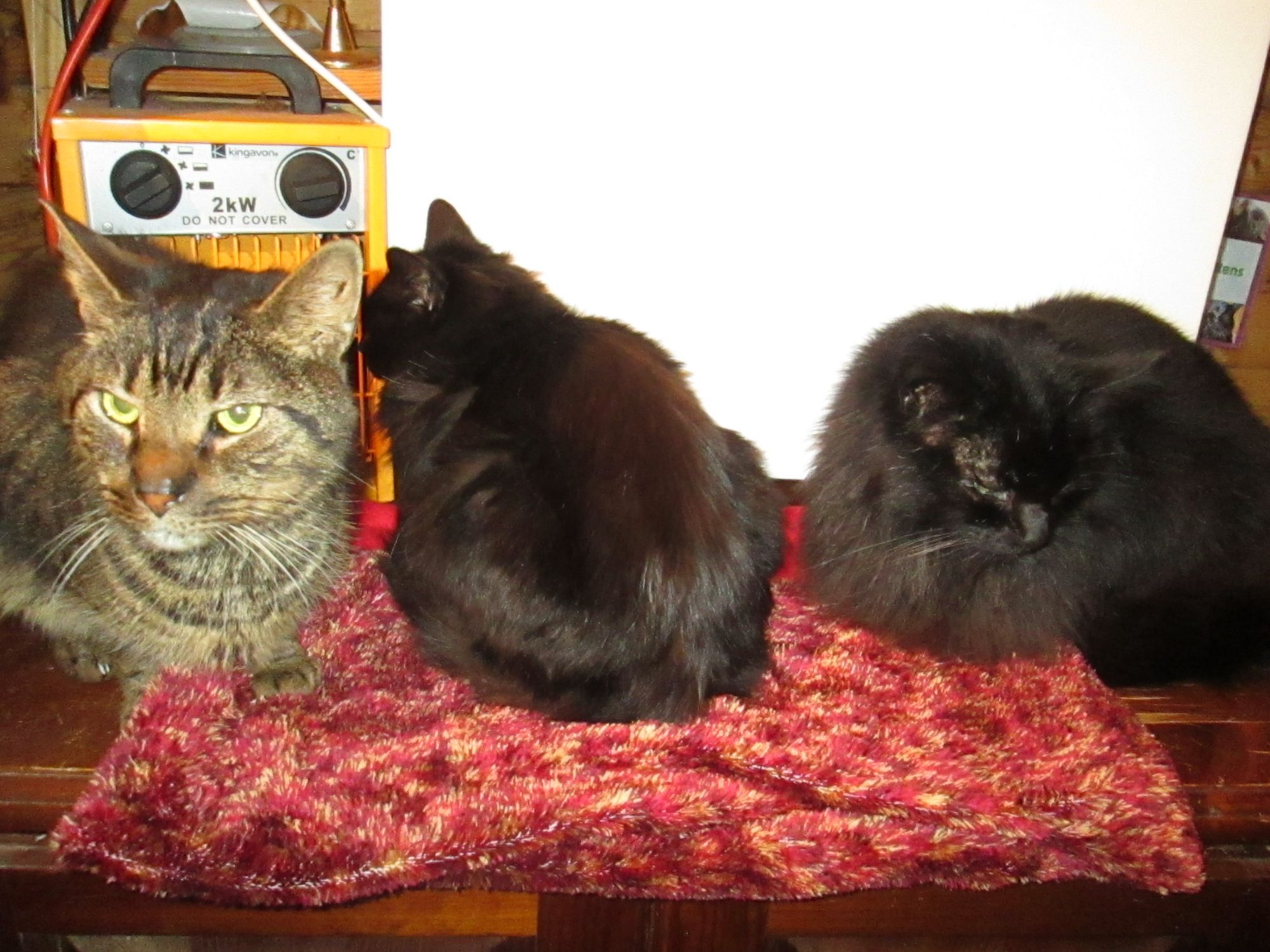 NEWS UPDATE April 4th 2019: Things have not been going very well in the cat cabin this past month, Beany died March 1st, Pumpkin's at deaths door but holding it together BARELY (She is now 15), Eggy's having Asthma attacks and bouts of aggression sporadically... one thing after another making the babies require extended sessions (upwards of 3 hours a time just to cover feeding, cleaning up etc let alone spending time with them) several times a day - we may run the risk of having to post orders the next working day rather than same day. If any large delays are suddenly expected we will be in touch with you individually. We hope you understand and continue to support us in this tough time.
Offers of HELP are greatly appreciated but we unfortunately can't allow the public to enter the premises. If you'd like to support what we are doing alongside or instead of placing orders on here please consider becoming a patron. You can opt for any of the packages or make a custom donation... we REALLY appreciate anything you can offer.
We wouldn't be able to function without the support of our customers and patrons!

Our postage price structure will soon be changing.
It has been a goal for some weeks now for me to make it possible for smaller "letter postable" items to not be subjected to the parcel post prices at checkout, and to make it easier for donations to be added at point of sale.
You may begin to see these changes between April 3rd - May 6th 2019. Yes, that is a month long period - but with the way things are in the cabin, we are barely indoors until the early A.M and can't fit all huge tasks in the small time windows we have available.
If you are placing multiple items into your order basket with the newly "included postage" options you may notice that your order adds up to the value of £10 or greater solely in add on postage. please feel free to use Coupon Code MULTIBUYER at checkout for a discount, or get in touch for a customised total.
Thank you It really does mean so much to have everyones support! xx